Currency Converter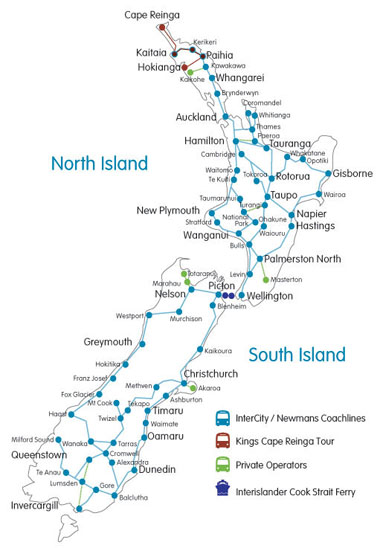 You can add to your train travel, with travel on New Zealand's largest bus, scenic coach and inter-island ferry transportation network, in association with InterCity Coachlines, Newmans Coachlines and Great Sights - with its premier scenic coach and sightseeing services, connecting over 500 towns, cities, major skifields, national parks and major tourist destinations and attractions through out New Zealand, with over 130 daily services - 365 days a year.

With a range of fares starting from NZ$1.00, travelling on Great Sights, InterCity Coachlines and Newmans Coachlines national bus and coach networks is an affordable, eco-friendly and safe way to see New Zealand's unique scenic beauty.

Travel is on modern eco-friendly, air-conditioned coaches and buses featuring reclining seats with foot and head rests, with some long distance coach services having on board washroom/ toilet facility. All regional and long distance services do stop regularly for comfort and refreshment breaks.

InterCity, Newmans and Great Sights bus and scenic coaches, have onboard seamless 3G/4G mobile Wi-Fi access on all long distance and regional bus, scenic coach and sightseeing tour sevices within New Zealand.

InterCity Coachlines operates the Starlighter overnight coach services that operate between Auckland, Hamilton, Rotorua, Taupo, Palmerston North and Wellington, connecting with Cook Strait ferry services operating between Wellington in the North Island and Picton in the South Island.
Using the FareFinder search box located on the left, you can search online for fares, times, seat availability and make instant confirmation reservations on all InterCity Coachlines, Newmans Coachlines and Great Sights bus and coach services through out New Zealand, including ferry services between North and South Islands.

When using the FareFinder - Newmans Coachlines is identified as 'NM', Great Sights is identified as 'GS', InterCity Coachlines is identified as 'IC' and InterCity Link as 'IL'.

Reservations can be made for combined bus and Cook Strait ferry travel from Paihia (Bay of Islands), Auckland, Hamilton, Rotorua, Palmerston North or Wellington to Christchurch, Picton, Blenheim, Kaikoura or Nelson. Using the FareFinder - type or select 'Paihia, Auckland Central, Hamilton Central, Rotorua, Palmerston North or Wellington Central' in the 'From' field and type or select 'Christchurch, Picton, Blenheim, Kaikoura or Nelson' in the 'To' field as your final destination.

If travelling from Christchurch, Kaikoura, Blenheim Nelson or Picton to Wellington, Palmerston North, Rotorua, Hamilton, Auckland or Paihia - type or select 'Christchurch, Kaikoura, Blenheim, Nelson or Picton' in the 'From' field and type or select 'Wellington Central, Palmerston North, Rotorua, Hamilton Central, Auckland Central or Paihia' in the 'To' field as your final destination.

Reservations can be made for drop off at Christchurch International Airport on northbound InterCity bus and coach services from Invercargill, Te Anau, Queenstown, Dunedin, Timaru, Oamaru, Ashburton to Christchurch and Great Sights coach services from Queenstown Twizel, Lake Tekapo and Mt Cook, by typing or selecting 'Christchurch Airport' in the 'To' field, as your drop off location. Airport pick up or drop off for Newmans coach services between Christchurch Lake Tekapo, Twizel, Wanaka and Queenstown - select or type 'Christchurch Antarctic Centre' in the 'From' field or the 'To' field as your Christchurch airport pick up or drop off location. There are no bus or coach services from Christchurch airport to or from - Picton, Blenheim or Kaikoura.

If travelling to or from Auckland Airport International or domestic terminals - to or from Auckland city and destinations outside the greater Auckland urban region, using the above Fare Finder - in the 'From' field, type or select either 'Auckland International Airport' or 'Auckland Domestic Airport' and in the 'To' field, the destination you want to travel too. Reservations for bus and coach travel within the greater Auckland urban region is not available because they are local commuter services.

You can add to your train travel, a flexible 'Book As You Go' bus, ferry and sightseeing pass, that allows you to travel on InterCity Coachlines, Newmans Coachlines and Great Sights national bus and coach networks and Cook Strait ferry services, that operate between the North and South Islands, at your own pace, in any direction, as many times as your travel plans allows for up to 12 months giving you value for money travel.

If you are experiencing any problems in making your reservation or would like one of our travel consultant's to make a reservation/s for you, please do not hesitate to contact our Travel Centre team for assistance