Scenic Travel Services From Wellington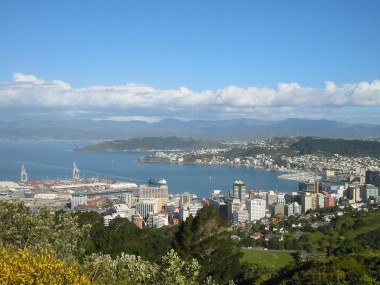 Wellington is New Zealand's capital city and the southernmost city in the North Island. Surrounded by hilly terrain and a stunning natural harbour, Wellington offers plenty of things to see and do for families and independent travellers alike.

Wellington boasts natural attractions like Mount Victoria, the Botanic Gardens (best accessed by Wellington's iconic Cable Car), Lord of the Rings and Hobbit film locations and Zealandia native wildlife sanctuary.

Wellington is also home to Te Papa - the national museum and art gallery. Situated on the waterfront, Te Papa has several floors of fun hands-on exhibits that show off New Zealand's natural, cultural and social history, as well as hosting international exhibitions.
The 'capital of cool', Wellington combines big city culture with small-town charm. Its compact city centre means most Wellington attractions are within walking distance. There are shopping and dining options for every budget in the Cuba Mall precinct and along Lambton Quay.

Foodies and craft beer devotees will find themselves in paradise, while anyone who loves a spectacular show will enjoy big-ticket events like the New Zealand Festival, the New Zealand Rugby Sevens tournament, Beervana Crafted Beer Expo and the World of Wearable Arts extravaganza. Sports fans flock to Wellington's main stadium, known as the 'Cake Tin' for events like the annual New Zealand Sevens tournament; while across town the Basin Reserve hosts cricket matches in a very traditional style.

Wellington is also known as 'Wellywood'. The name - a conflation of Wellington and Hollywood - a reference to the film production business established in the city by The Lord of the Rings film trilogy and King Kong director Peter Jackson, who's business operates a number of film-related facilities in the Wellington suburb of Miramar.

Wellington has an extensive suburban and regional train/rail services to Masterton, Featherston, Martinborough know for its award wining wineries, Otaki, Levin, Shannon and Palmerston North

Wellington is the southern terminal for the Northern Explorer train service that operates between Wellington, Auckland, Hamilton, National Park - Tongariro National Park and Whakapapa skifield, Ohakune - Turoa skifield and Palmerston North.

There are no passenger train or rail services from Wellington to Napier or Hastings, Wellington to New Plymouth, Wellington to Whanganui, Wellington to Taupo, Wellington to Tauranga or Wellington to Rotorua except for scenic coach travel from Wellington to Rotorua.

Wellington is the southern terminal for inter-regional and long distance bus and coach services from Wellington to other North Island destinations.