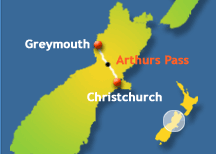 The TranzAlpine train is a scenic train journey travelling from Christchurch to Arthurs Pass and Greymouth passing though the Southern Alps from one coast of New Zealand's South Island to the other.

From your carriage you'll see the fields of the Canterbury Plains and farmland, followed by the spectacular gorges and river valleys of the Waimakariri River.

The TranzAlpine train travels west crossing the Canterbury Plains, ascending up through the Southern Alps to the alpine village of Arthurs Pass for a short break before descending to the West Coast of New Zealand's South Island, through lush alpine beech rain forests to Greymouth – a great base for visits to Punakaiki and the always popular glaciers at Franz Josef and Fox Glacier.

Your journey is 223.8 kilometres long and takes just four and a half hours. There are 16 tunnels, and 5 viaducts, the highest being the Staircase standing at 73 metres.

The TranzAlpine carriages have advanced air bag suspension system for quieter and smoother travel, un-tinted, non-reflective, panoramic side and roof windows to capture the dramatic coastal and mountain views of the magnificent South Island, GPS triggered journey commentary in five languages at your seat via headphones, plus information displays and overhead HD video and are centrally heated/air conditioned for passenger comfort.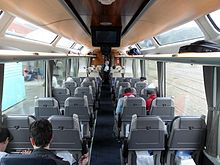 Each carriage has onboard washroom/toilet facilities, with '2 Seat-Aisle-2 Seat' forward facing seats with head rests or 'Table Group' (4 people around a table) seating allowing to experience the amazing views of the South Island Canterbury Plains, the Southern Alpines and the alpine rain forest region of the South Island's west coast , through panoramic side and roof windows, while enjoying the company of other passengers.

The TranzAlpine train has a café carriage offering a range of alcoholic and non-alcoholic drinks, snacks and light meals and an open air viewing carriage allows you to get even closer to the stunning scenery and provides many opportunities to photograph your favourite spots.

For mobility-impaired passengers, wheelchair hoists provide access to the café carriage from track level, with spaces for wheel chair users and a disabled public toilet. For hearing-impaired passengers a hearing loop covers the whole saloon and café serving area of the carriage.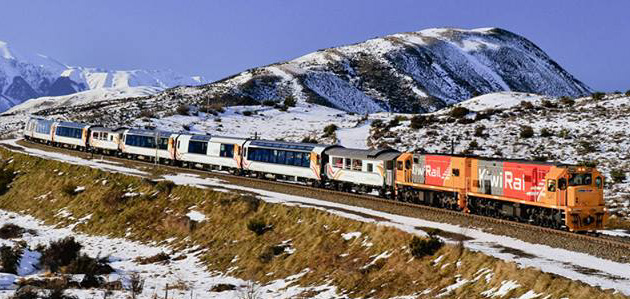 The TranzAlpine train is reserved seating 'One Class/Non-smoking' service.

The TranzAlpine train does not operate on Christmas Day - 25 December.

The TranzAlpine train timetable.

The TranzAlpine train connects at Greymouth, with various coach services to Hokitika, Fox Glacier, Franz Josef Glacier, Punakaiki, Westport and Nelson.

There are a range of combined train and scenic bus travel options to choose from, allowing you to make one reservation and travel on one fare from either Christchurch to Franz Josef or Christchurch to Franz Josef and Queenstown or from Queenstown to Franz Josef and Christchurch or Franz Josef to Christchurch.

You can a scenic train and bus travel pass from Christchurch, that allows you to travel by scenic train and bus, coach and scenic coach travel services, to the Fox or Franz Josef glaciers, Geymouth, Aoraki/Mt Cook national park, Milford Sound and Queenstown or Auckland, at you own pace, at any time in any direction. You can choose your own route, stop when you like, and travel as many times as you wish within the validity of this flexible pass - hop on and off where and when you wish.

If travelling from Greymouth along the west coast down to Franz Josef, Fox Glacier, Queenstown, Milford Sound and Mt Cook/Aoraki or up to Punakaiki, Westport, Nelson and back to Christchurch, there are a range of suggested 'Book As You Go' flexi bus pass travel itinerary options available.