Scenic Travel Services From Rotorua

Explore Rotorua and its surrounding region, with its diverse natural geo thermal beauty, a major adventure destination and is New Zealand's Maori cultural heartland.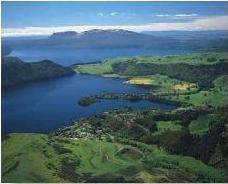 Rotorua (Pop: 55,600) (from Māori: Te Rotorua-nui-a-Kahumatamomoe, "The second great lake of Kahumatamomoe") is a city on the southern shores of the lake of the same name, in the Bay of Plenty region of the North Island of New Zealand.

Rotorua is a major destination for both domestic and international tourists, with the tourism industry being by far the largest industry in the district. The city is known for its geothermal activity, with a number of geysers, notably the Pohutu Geyser at Whakarewarewa, and hot mud pools located in the city. This thermal activity owes itself to the Rotorua caldera on which the city lies.

Rotorua welcomes you, with true warmth. It's offering you the very best Rotorua can give, of the people, the history, the land. It's about looking after you, and its something Rotorua takes great pride in. Te Arawa people were New Zealand's first hosts, guiding visitors safely across the waters of Lake Tarawera to the splendid Pink and White Terraces.

Their descendants are the Maori you meet today. Rotorua is like no other place, its spirit expressed by its stunning landscape. Its raw beauty has enchanted visitors from around the world for more than 160 years. Stand upon active volcanoes, peer into massive craters - see boiling mud, exploding geysers and enjoy unspoiled native forests that cloak the land. And throughout this vista are 14 crystal lakes, brimming with trout and awaiting your tender hook.

Rotorua is a vibrant, modern city with many attractions and activities, making your task difficult to decide how much you can cram into the time you have.

There are no passenger train or rail services to and from Rotorua. The closest railway station to Rotorua is Hamilton, which is a 1 hour 40 minute travel by daily Rotorua to Hamilton coach services, connecting with the Northern Explorer train service from Hamilton to Wellington.

There are no passenger train or rail services from Rotorua to Wellington except for scenic coach travel from Rotorua to Wellington.