Scenic Travel Services From Queenstown

Explore Queenstown and the surrounding region with its diverse natural beauty, from soaring mountain peaks of the Southern Alps, Lake Wakatipu, the Shotover River with its rugged alpine native alpine bush and the nearby skifields by travelling on coach and scenic coach services, as there are no passenger train services to or from Queenstown.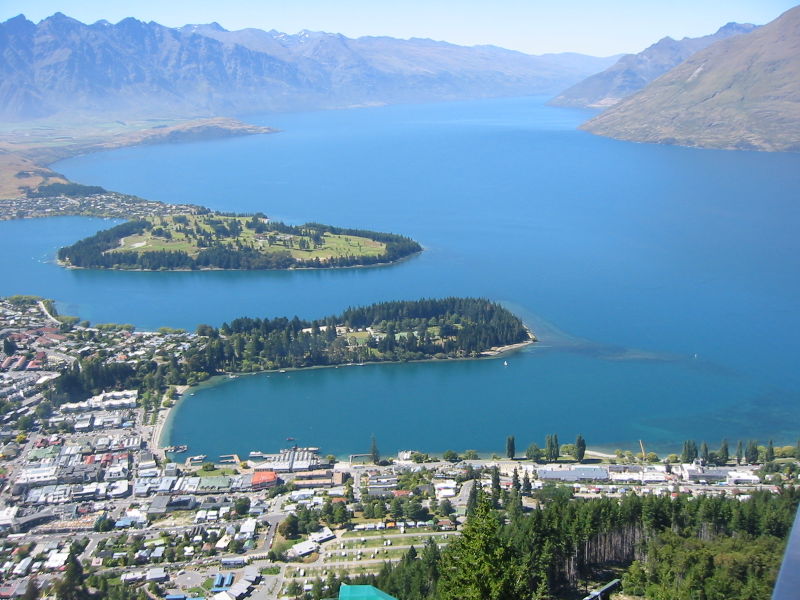 Queenstown (Pop 14,450) is an international resort town in central Otago in the south-west of New Zealand's South Island.

It is built around an inlet called Queenstown Bay on Lake Wakatipu, a long thin lake formed by glacial processes that is shaped like a staggered lightning bolt and has spectacular views of nearby mountains.
The town was named because "...it was fit for Queen Victoria." Queenstown is today recognised internationally as New Zealand's premier visitor destination.

Queenstown has more than just breathtaking scenery and a diverse range of attractions, it's the people visitors find enchanting.

Queenstown enjoys four distinct and captivating seasons. Summer burns hot under blue skies before cool autumn mornings bring fire to the hills, trees change to vivid reds and gentle golds. Crisp, clear days and miles of snow covered mountains, make winter a time for snow enthusiasts, before nature bursts into colourful life in spring.

As a resort town, Queenstown is a centre for adventure tourism. Skiing, jet boating, white water rafting, bungy jumping, mountain biking, tramping and fly fishing are all strong promotional themes.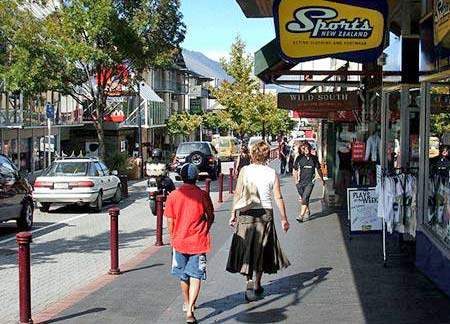 Bungy Jump from the world's first commercial bungy site, swoop and soar in your own controllable "rocket", white water raft or surf, jet boat down canyons, tandem hanglide or parapente...it simply doesn't stop! Long walks, four wheel drive treks, or lunch on a majestic steamboat, you choose, it's your holiday.

Queenstown is a major centre for snow sports in New Zealand, with people from all over the country and many parts of the world travelling to ski at the four main mountain skifields (Cardrona Alpine Resort, Coronet Peak, The Remarkables and Treble Cone). Cross country skiing is also available at the Waiorau Snow Farm, located near the village of Cardrona.

Queenstown has a reputation as one of New Zealand's wine and cuisine centres. Neighbouring, historic Arrowtown also features excellent restaurants and bars and Queenstown lies close to the centre of a small wine producing region, reputed to be the world's southernmost. Pinot noir produced in this area fetches premium prices.

Travel back in time to the historic gold mining settlement of Arrowtown, or travel the shores of Lake Wakatipu to discover the beautiful hamlet of Glenorchy, the gateway to the Paradise Valley and the famous Routeburn walking track.

You can a scenic train and bus travel pass from Queenstown, that allows you to travel by scenic train and bus, coach and scenic coach travel services, to the Fox or Franz Josef glaciers, Geymouth, Aoraki/Mt Cook national park, Milford Sound and Christchurch or Auckland, at you own pace, at any time in any direction. You can choose your own route, stop when you like, and travel as many times as you wish within the validity of this flexible pass - hop on and off where and when you wish.