Scenic Travel Services From Auckland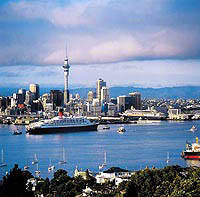 Auckland is the largest and most populous urban area in New Zealand, with a population of 1.4 million and increasingly cosmopolitan, with the largest Polynesian population of any city in the world and has seen many people of Asian and Indian ethnicity move there in the last two decades.

Auckland, popularly known as the "City of Sails", lies between the Hauraki Gulf of the Pacific Ocean to the east, the low Hunua Ranges to the south-east the Manukau Harbour to the south-west and the Waitakere Ranges and smaller ranges to the west and north-west, plus 48 volcanic cones and more than 50 islands making one of the few cities in the world to have harbours on two separate major bodies of water - the Tasman Sea and Pacific Ocean.

The central part of the urban area occupies a narrow isthmus between the Manukau Harbour on the Tasman Sea and the Waitemata Harbour on the Pacific Ocean.

Auckland is where most people live within half an hour of beautiful beaches, hiking trails and a dozen enchanted holiday islands. Add a sunny climate, modern city environment including High Street, Queen Street, Ponsonby Road, Karangahape Road and the up-market shopping areas of Newmarket and Parnell and the trendy Viaduct Basin - where the two America's Cup challenges (2000 Cup and 2003 Cup) where hosted, coupled with the background rhythm of Polynesian culture and a passion for outstanding food, wine and shopping, you are now beginning to get the picture of Auckland.

From Auckland, you can explore the beautiful Bay of Islands and the thermal wonderland of Rotorua, by choosing from a range of suggested independent bus touring travel packages ranging from 1 to 5 days in duration.

Auckland has an extensive suburban and regional train/rail services within the Auckland urban region

Auckland is the northern terminal for the Northern Explorer train service that operates between Auckland, Hamilton, National Park - Tongariro National Park and Whakapapa skifield, Ohakune - Turoa skifield, Palmerston North and Wellington.

There are no regional commuter passenger train or rail services from Auckland to Paihia (Bay of Islands), Auckland to Whangarei, Auckland to Taupo, Auckland to Gisborne, Auckland to Napier/Hastings, Auckland to Tauranga or Auckland to Rotorua except for scenic coach travel from Auckland to Rotorua.

Auckland is a major hub for inter-regional and long distance bus and coach services from Auckland to other North Island destinations.

You can a scenic train and bus travel pass from Auckland, that allows you to travel by scenic train and bus, coach and scenic coach travel services, to the Fox or Franz Josef glaciers, Geymouth, Aoraki/Mt Cook national park, Milford Sound and Christchurch or Auckland, at you own pace, at any time in any direction. You can choose your own route, stop when you like, and travel as many times as you wish within the validity of this flexible pass - hop on and off where and when you wish.